The artists of Greco Gallery, the "Artistic Boutique" on Sturgeon Bay's historic 3rd Avenue, invite the public to view their recent work at an Artists Reception and Spring Open House on Saturday, May 25, from 5 – 8 pm.
As photographer and gallery founder Kelly Avenson says, "Winter was long, so stop in to see what we all have been working on!"
The event will also welcome three new artists to the group:
Potter Linda Sheard of Lily Bay Pottery,
Photographer Ty Helbach and
Garden art creator Chuck Swagel.
Linda Sheard, a potter for more than 40 years, is influenced by the beauty surrounding her home and studio on the shore of Lake Michigan. Her work is a family effort with pharmacist husband Bart custom-mixing her glazes, using ash from their own fireplace.
The Greco Gallery motto is "Create, Share and Inspire!" …a feeling that resonates with community-minded Sheard, who invites other potters, especially beginners, to her studio for lively conversation and hands-on demonstrations.
"My studio and gardens have brought people to me that share many of the same interests and experience joy in sharing the love of pottery and the beauty of my property," says Linda. "As my husband often says, 'It doesn't get any better than this,' and I agree."
Sheard creates urns, mugs, plates, vases and even pins in natural tones, with textured surface designs that are influenced by nature and architecture. Her work may also be seen at www.lilybaypottery.com.
Photographer Ty Helbach, a Wisconsin native and recent Door County transplant, is inspired by nature and music, and finds plenty of both in his new home. His interest in photography began ten years ago when he talked his father into giving him an old Yashica 35 mm camera, and he was promptly hooked.
An active traveler with a passion for discovering new places and people, Helbach says,"Looking through the lens forces me to slow down and pay attention to the simplest detail and the special moments in life."
Learn more about Helbach and his work at www.tyhelbachphotography.com.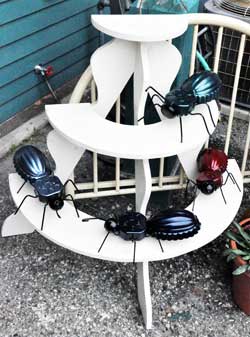 Garden art creator Chuck Swagel of Algoma started composing his garden creatures as a way to keep busy after being laid off from the shipyard. Anything Chuck can weld, screw or rivet together becomes art – fun grasshoppers fabricated from pipe wrenches, one-of-a-kind gazing ball stands made from scrap metal. He even uses pots, pans, forks and spoons. Some pieces are left with a natural patina, while others are accented with a touch of paint to really make the art come alive. Chuck also has plans to make holiday-themed outdoor art this season.
Sisters Helen Bacon and Martha Bennett continue to offer their silk scarves, ties, pillows and tops dyed with extracts from Door County flowers and herbs. Bacon's new items include jewelry, ribbons and tie-dyed patterns. Look for subtle color changes in a variety of types of silk and women's tops in larger sizes. Bennett has up-cycled vintage scarves into cute hair clips/pins, and transformed men's ties into infinity scarves.  She also uses real leaves and flowers to stamp into naturally dyed and black silk scarves.
Melissa Clark has been creating accessories in fresh colors and materials for her Prettywar line. The name derives from her signature mix of contrasting elements, like necklaces combining vintage heart charms and claw-shaped bone beads – perfect for adding some "edge" to a floaty dress or basic tee. Hand-dyed silk cords in dreamy spring hues and summer brights are used in wrap bracelets and braided onto chunky chain necklaces. Batik fabric is hand-sewn into pins and clips, with gemstone and Swarovski crystal pearl accents.
The Buttoneer, Samantha Kerwin, has spent the winter months creating jewelry utilizing a variety of vintage chains and baubles she received from her grandmother and her fall trip to Paris. The unique pieces have a vintage feel with some modern design elements. Bright colored "statement" necklaces are also making an appearance – of course including buttons!
Bethany Kirwen has been playing with larger canvases and creating colorful seasonal landscape paintings, bird paintings on hand-made birch branch easels, and daily encouragement puzzle pieces.
"I do have a lot of new things in the works and am feeling like a juggling clown right now," she confesses.
During the long winter, photographer Martha Coaty found herself looking for color among results from her fall and winter photo shoots. The tail end of summer and fall resulted in her new works "Garden Chair" and "Industrial Color."  "I realize I am not ready to share my winter sightings just yet," says Coaty. Her snowier pieces are "in hiding until the seasons change once more."
Painters Karen DeNoto and Faith Frykman have a number of new paintings on display. Frykman has been working on larger pieces, including a vibrant farm scene, a 16″ x 20″ oil on canvas. Pat Olsen, on the other hand, has been continuing to make miniature paintings, cleverly displayed on tiny easels.
"During this long winter," says watercolor artist Barbara Sweeney, "it was joyful to be painting spring and summer flowers using wet into wet washes."
Her latest work includes "Poppy Field," a 22″ x 15″ piece, and she will also be showing at Sister Bay's Meadows Gallery in August.
Fabric artist Susan Hoffman has been preparing for both the new season at Greco Gallery and her upcoming exhibit at the UU Gallery in Ephraim. Although best known for her intricate landscapes, composed of countless small fragments, her latest work features single pieces of hand-dyed fabric, matted and framed. The self-taught artist will also be sharing her technique at a workshop at the Clearing Folk School on July 12.
Portrait photographer Kelly Avenson has been busy capturing images of all sorts of loved ones – everyone from sweet new additions to entire families and even furry four- legged family members have found a spot in front of her lens. You can find more of her work on Facebook or www.kellyavenson.com.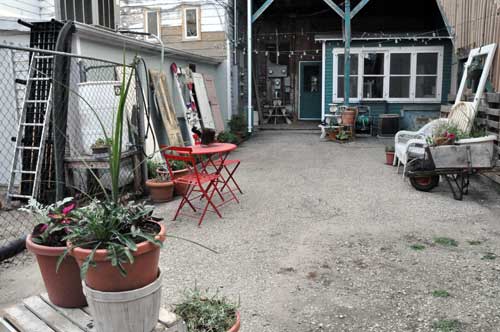 The gallery has added a hall devoted to small prints and cards with images of the artists' work, and garden art in the gallery courtyard is coming soon. The courtyard will also host a limited number of live music events this summer so be on the lookout for shows and dates.
Greco Gallery is "An Artistic Boutique" featuring the work of 17 artists, from award-winning to budding new ones, in a non-comissioned, collective gallery where 100 percent of the sales go back to the artists. Open from 10 am to 5 pm, Monday – Saturday –  Sundays by chance or call 920.743.5000.