If you are looking for an intimate and secluded cottage to celebrate your Door County wedding honeymoon, consider one of these lesser known accommodations.
Whether you are seeking a classically rustic and unique escape, or a modern yet secluded cottage outfitted with a gourmand's kitchen, each of the following one-of-a-kind spots offer something quite distinctive and unusual.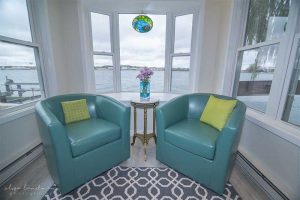 Happy to say, one of the last surviving waterfront cottages on Sturgeon Bay's West Side has been rescued from the wrecking ball. Alisa Landman purchased the tumbledown cottage at 324 N. Joliet in 2015 intending to renovate it but, as well-intentioned restorations often go,  she eventually had to start from the ground up. Beginning by reinforcing the foundation, she ended up creating a brand new structure on the original footprint.
The Lily Pad is a one-bedroom studio, perched right on the shoreline's edge with an outdoor deck, an adjacent private dock. If you are seeking a secluded "honeymoon" getaway, this waterfront cottage is ideal, tucked out of sight and almost invisible from the street. Yet within walking distance, there is everything Sturgeon Bay has to offer; art galleries, restaurants, shopping and nightlife. This completely furnished cottage with vaulted ceilings and terrific view of the ship canal is the perfect spot for a couple to spend some meaningful, private time together.
Otumba Park with a sand beach, playgrounds and lighted tennis courts is just a block away. The cottage is available the year 'round for those who have discovered the magic of winter in Door County. It has all of the modern appointments you'd expect to find in a high end facility including a fully appointed chef's kitchen, a Bosch dishwasher, LG refrigerator and sink with Hansgrohe faucets. Everything you need to make a special meal is at your fingertips… but it's hard to resist the restaurant choices available on the West Side and across the historic Steel Bridge.
Sturgeon Bay, the county seat, is a wonderful place experience scenic beauty coupled with the impressive shipyards, shops and art galleries, great restaurants and nightlife including live theater and a wide variety of music.
The Lily Pad is furnished with a king bed, the perfect combination of firm and soft, a queen futon in living room and air conditioning. If you feel the need to get online, the cottage is equipped with WiFi and a 27" HDTV TV with a Roku streaming device in the living area.
Located on the Eastside of Sturgeon Bay between the Bayview Bridge and the Oregon Street Bridge is a beautiful private suite of rooms in a local home located on Memorial Drive. The entire home has been recently renovated. The upper level suite features a queen size bed, a private balcony overlooking the water, a private bath with a luxurious rain-shower head and a small dining area with refrigerator and coffee maker. On the same level, is a second bedroom with a full size bed.
The lower level suite also offers a water view with a queen size bed, private bath and a pull out sleeper sofa. The kitchen bar is equipped with a sink, refrigerator, microwave, coffee maker, and dining table. All of the rooms come with WiFi and streaming devices for TV. Guests may use the steam shower, infrared sauna and washer/dryer. The owners, Chris and John provide guests with a canoe on the adjacent shoreline and dock space for a small boat is available depending upon availability (call 920.819.1341). Suite on the Water does not offer B&B services since there are many restaurant nearby including our favorites, Get "Real" Cafe and Lola's Bakery and Restaurant.
"An what about up nort hey…?"
The home and grounds of Jim and Carole Maronek in Ellison Bay, Silver Poplar Studios and Ellison Wonderland is a whimsical collection of antique architectural remnants stitched into a collection of lodgings set within 15 acres of woods, meadows, and gardens, all adhering to a Russian theme (Carole's parents were from Byelorussia) – an exquisite spot for a distinctive and memorable Door County wedding and honeymoon.
The centerpiece is their barn, built in 1998 and registered as "Ellison Wonderland, LLC" itself a collection of reclaimed barns and salvaged materials. The surrounding gardens and outdoor artwork are exquisite. They each represent the passion of Carole and jim, respectively. Jim came to Door County after a successful career as set designer for Chicago's Goodman Theater and he has not stopped creating sets and settings, wall murals and sculpture. Carole's plants and gardens are a living work of art. The public is welcome to visit during regular gallery hours and the Maronek's offer the cottages for rent as well as their barn for concerts and wedding receptions.
If you want a more reclusive experience, head to Carlson's Europe Lake Guest House in Ellison Bay. Facing the peaceful waters of Europe Lake, the Guest House sleeps 9 including children and provides visitors with cozy, private and quiet seclusion, surrounded by forest and the pristine beauty of a waterfront setting. The perfect family gathering place, it features an open concept, vaulted ceiling and a cook's delight kitchen. There are three bedrooms, with 2 full modern baths, loft and cozy family room with a two story stone fireplace.
The Lake Lodge is a private and relaxing experience with a spacious deck, and a large picnic table. Guests have their own kayak, canoe and rowboat. Enjoy the simple pleasure of sitting around the living room fireplace with friends and family. Door County's beautiful Europe Lake offers peace and tranquility that we all need in our daily lives.
Steps away from the shores of Ellison Bay on the Bay of Green Bay and a short distance from Lake Michigan, this light-filled and lovely 3 bedroom, 1.5 bath cottage is minutes from the water and convenient to everything in town.
Walk to the public marina and boat launch ramp, post office, public beach, parks, The Clearing Folk School, Savory Spoon Cooking School and Marketplace, the Pioneer Store, unique shops, terrific restaurants, a great coffee shop, numerous fine art and pottery studios and diverse galleries.
Hike and bike around town and in nearby state parks and wildlife areas, ride the ferry to Washington Island, take a sightseeing cruise, kayak and canoe or enjoy the many music and cultural venues that Door County has to offer. If you did not bring your own bikes and would like to take a quick bike tour around town, limited free bike rental is available in town at the information booth.
Consider Creed Cottage for your next visit north of the tension line aka Ellison Bay – their three bedroom cottage offers beautiful, clean, fresh and comfortable accommodations while exploring northern Door County and nearby Newport State Park. Creed Cottage accommodates up to six people with two queen bedrooms (one with adjoining 1/2 bath) and one twin bedroom. The season begins Memorial Day weekend and lasts into November. You can find out more at CreedCottage.com.