"We do not act rightly because we have virtue or excellence, but we rather have those because we have acted rightly." ― Aristotle
When I asked my partner, photographer Alisa Landman if she'd like to go to a benefit dinner instead of cooking on Thanksgiving, she agreed that it would be a different way to spend the holiday. I'd recently heard a story broadcast on WDOR about a special fundraising event at the Baileys Harbor Town Hall for a woman fighting cancer.
Her friends and neighbors wanted to help…
For several months now, Natasha Ustianowski, a Sturgeon Bay single mom, raising her 11-year old son Dex, has been making regular trips to Froedtert Hospital in Milwaukee, undergoing radiation and chemotherapy. The intent is to shrink the tumor before surgery. In December of last year, she noticed a lump on the back of her leg and after doing some research, assumed it was a baker's cyst. But it failed to get better. In June, after a series of tests, it was diagnosed as synovial sarcoma. She had to abruptly cut back on work as each chemo treatment requires about a week of recovery and her post-surgery rest and recuperation is expected to take an additional eight weeks.
So this year, the Baileys Harbor Community Association's (BHCA) fifth annual Thanksgiving Dinner became a fundraiser. Door County wedding planner Carrie Baldwin Smith was recruited by Barb Anschutz, and Heidi Penchoff to help organize the event along with the assistance of a small army of volunteers and donors.
How it all got started…
In 2011, at a recap meeting following that year's Baileys Harbor Halloween festivities, someone tossed out the idea of having an event on Thanksgiving. Paul Salm at the Cornerstone jumped on it, offering to host what would become the First Annual Baileys Harbor Free Thanksgiving Dinner inviting anyone who had nowhere else to go. I distinctly remember that first year as I numbered myself among those "bachelor farmer types" that Garrison Keillor describes in Lake Woebegone. I was living alone on Thanksgiving and that year, I went to the Cornerstone. I'd guess  there were not more than about 50 people, but it felt like a crowd, at the Cornerstone. In a few years, the celebration outgrew the Cornerstone and it was moved to the Town Hall.
This year, the first time it became a fundraiser, more than 300 people passed through the doors of the Baileys Harbor Town Hall.
Thanksgiving Day 2015…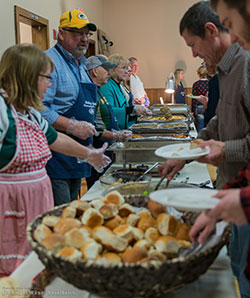 When we arrive, the surrounding streets and parking lot at the town hall are already filled with cars. Once inside, I negotiate the crowd to secure a couple of unclaimed seats along the far wall before we stroll over to the buffet line. The stage overlooking the hall is filled with an abundance of donated raffle prizes …everything from a wheelbarrow full of booze to a set of handyman tools, 3 nights plus extras at the Bayview Resort to a women's Harley accessory package, a dog lover's package, jewelry and clothing all capped off by the ultimate, an autographed Bret Favre Packers' team jersey!
"It seems that Bruce Alexander sprouted some enormous angel wings," one Harborian is overheard saying. "Sirloin tips, lasagna, he even gave us all of the plates and silverware!"
Alexander's is joined by 25 other locations, wholesalers and artisan contributors to roll out a bounty of free Thanksgiving fare.
"Sara gave us 30 pies. Heidi Penchof's sister is a food broker in the Minneapolis area and she sent 4 hams," Barb Anschutz adds. "Everything was donated…"
Rolls – Piggly Wiggly and Baileys Harbor Community Association
Smoked Fish – Dave Peterson and Hickey Brothers Fishery
Relish Tray – Koepsel's Farm Market
Garden and Pasta Salad – Al Johnson's
Sirloin Tips, Mostaccioli, Green Beans and Sweet Potatoes, Plates and silverware – Alexander's
Stuffing – AC Tap
Mashed Potatoes – Cornerstone Pub
Chicken – Casey's and Sister Bay Bowl
Desserts – Sara Pellerin, Heidi's sister and Tassie Knudson
Coffee and water – Koepsel's Farm Market and Sister Bay Trading
Milk – Baileys 57
Apple cider – Krowas Orchard
Beer – Door County Brewing Co.
Wine – Chop
Beverageware and butter – Anschutz Plumbing & Heating
Linens – Horseshoe Bay Farms
Placemats – Innovative Printing
Graphics for ad and printing – Inside the Door
Printing posters – Paper Works Plus
"People were still bringing in raffle items on Thanksgiving day," says Barb Anschutz. "We more than doubled what were were hoping to bring in for Tasha. She was just overwhelmed and afterwards the tears started to fall. This has given her so much hope. For the first time she knew she would beat this."
The success of this year's event confirms the organizer's intention to continue spreading joy by making all future BHCA Thanksgiving dinners benefit events.
"I hope I can track down all of the people who gave their time and donations, big and small," Tasha Ustianowski says. "What I want to say most is 'thank you' to all the people involved."
Synchronicity…
I'm sitting across the table watching a dad singing the ABCs back and forth with his tiny young daughter who can almost make it to the letter G… and I think about how absolutely fortunate we all are to still be able to enjoy life in a small town community. Eventually, after things quiet down somewhat in the serving line, the dad and daughter get up to give their coveted seats to the mom and a second daughter who have obviously been hard at work in the kitchen. She still has on an apron. We ask the mom if they have a head count so far and she says they have already served more than 200 people…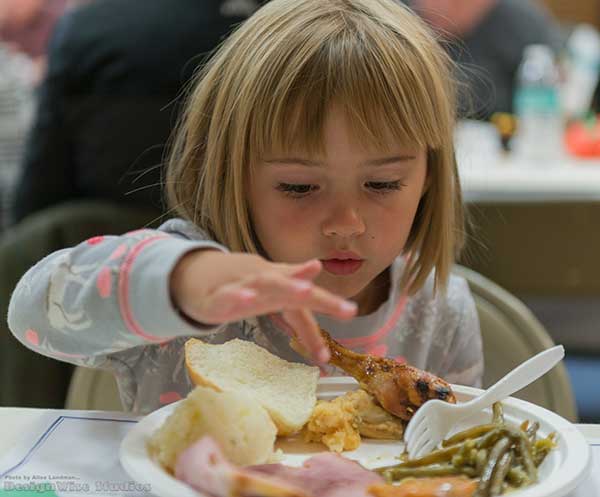 And as she encourages her daughter to eat her Thanksgiving dinner, it turns out the mom is Carrie Baldwin Smith.
A recent study, published online in the Journal of Happiness Studies conducted by researchers at Harvard Business School and the University of British Columbia suggests the existence of a kind of "positive feedback loop" between kindness and happiness, with one encouraging the other.
"The practical implications of this positive feedback loop could be that engaging in one kind deed would make you happier and the happier you feel, the more likely you are to do another kind act," says Lara Aknin, a graduate student in psychology at the University of British Columbia and the study's lead author. "This might also be harnessed by charitable organizations: Reminding donors of earlier donations could make them happy and experiencing happiness might lead to making a generous gift."
Another paper, published in the Journal of Personality and Social Psychology suggests that spending on others makes us happier than spending on ourselves. From the abundance of  spirit generated in Baileys Harbor community on Thanksgiving Day, 2015 it also appears that happiness is a chain-reaction.