Controversial, thought-provoking, artistic and independent films are the focus of biweekly Thursday evening film screenings in Egg Harbor at Greens N Grains Deli loft.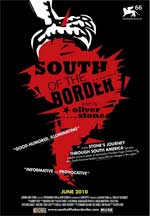 Last winter I launched the Greens N Grains Dinner and a Movie Series which showed a variety of films from around the world and concluded in March with a local filmmaker's night. This season we wish to build on the success and expand the concept further with the inclusion of themed discussions as an integral part of the meetings. The chance to engage in thoughtful discussion with others after the screening is an important ingredient of a good film event. Film aficionados in Door County are encouraged to join us in the creation of a new interest group that will help you to pursue your love of cinema at biweekly meetings of the Green Door Film Society.
This evening, Thursday, November 18 at 7 pm we'll begin the series with Oliver Stone's latest documentary, "South of the Border." Eager to explore how the U.S. media has depicted Venezuelan President Hugo Chavez, director Oliver Stone travelled to South America to interview Chavez and several other South American presidents in the process. Among the distinguished subjects in Stone's probing and controversial documentary are Bolivia's Evo Morales, Brazil's Lula da Silva, Argentina's Nestor Kirchner and Cuba's Raúl Castro. The film is certain to provoke dialogue and was not shown in any local Door County commercial venues during its recent box-office release.
The Green Door Film Society will have exclusive use of the loft facilities which comfortably seats about 30 people. Every other Thursday, beginning on November 18, we'll get together to watch and watch and discuss film and the film making process throughout the "quiet season." Notes and discussion questions for each film will be provided here along with trailers and posters that you can download and hang up to help get the word out.
Greens N Grains Deli will host a natural and organic dinner special each evening before the Green Door Film Society meetings. Enjoy a delicious soup specialty, salad, a fresh baked roll and a cup of tea for $7.50, available from 6 pm on. The Film Society screenings take place at 7 pm and there is no charge for membership but seating at screenings is limited to 30 people.