Travel Green program supports Wisconsin's conservation tradition…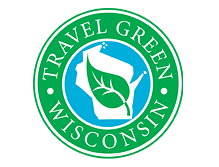 The Wisconsin Department of Tourism is pleased to welcome The Village of Egg Harbor as a certified member of its Travel Green Wisconsin program. With a longstanding conservation legacy, this program furthers Wisconsin's commitment to sustainability. The Village's Paul J. Bertschinger Community Center, other municipal properties including Egg Harbor Beach and Marina earned its certification for implementing green practices.
For example, the Egg Harbor Marina earned the designation of "Clean Marina" by Wisconsin Clean Marina in partnership with University of Wisconsin Sea Grant Institute. The Egg Harbor Marina is also a bronze level Water Star Community certified by Water Star Wisconsin.
"Wisconsin has a longstanding tradition of conservation and Travel Green Wisconsin is an opportunity for businesses to further distinguish themselves for their sustainable practices," says Tourism Secretary Stephanie Klett. "We applaud their commitment to making sustainability a priority in their business, knowing the importance of doing our part now to preserve our natural resources and treasures for future generations."
The Village of Egg Harbor is committed to water quality improvement projects such as Beach Park Improvements, permeable paver installations and bio-filter installations. The Village of Egg Harbor practices sustainability of wild life and landscape conservation and management. Those efforts have been recognized as designations of Tree City, USA as well as Bird City, Wisconsin. The Village of Egg Harbor joins more than 519 TGW Certified businesses.
"The Village of Egg Harbor strives to improve its environmental impact and constantly considers sustainability when making decisions," says Michelle Anderson, Deputy Administrator, DC/DT, CTA-Village of Egg Harbor.
Even seemingly small practices can have a big impact. In a study done in 2013, Travel Green Wisconsin businesses that installed low-flow fixtures such as toilets, shower heads and faucets, reduced their annual water use by nearly 37 million gallons. Additionally the study found that by switching to energy-efficient compact fluorescent light bulbs, Travel Green Wisconsin businesses reduced their lighting-related electricity usage by 75 percent, saving an estimated $3 million each year.
Travel Green Wisconsin was the first program of its kind in the nation and serves as a model to promote environmentally friendly practices in the tourism industry. The program is unique for its inclusion of all tourism-related businesses and organizations including but not limited to attractions, events, accommodations, outfitters, restaurants, retail, visitor centers and more. Tourism businesses interested in learning more about becoming certified can contact Marketing Specialist Christina Torkelson at ctorkelson@travelwisconsin.com or 608.266.1238.
The mission of the Wisconsin Department of Tourism is to market the state as the Midwest's premier travel destination for fun by executing industry-leading marketing programs and establishing strategic partnerships. The Department plays a significant role in generating greater economic impact and jobs for Wisconsin. The portal for traveler information can be found at www.travelwisconsin.com.