Sturgeon Bay, the gateway to Door County has become an exciting art destination in recent years.
With over a dozen galleries downtown showcasing work by local artists, it offers a vibrant arts and culture scene perfect for a weekend getaway. You can discover paintings, glass, pottery, jewelry and more without traveling up the peninsula. Sturgeon Bay's natural beauty and thriving creative community centered around its galleries and exhibits provides an abundance of art to explore right in town.
Art lovers focus here from far and near…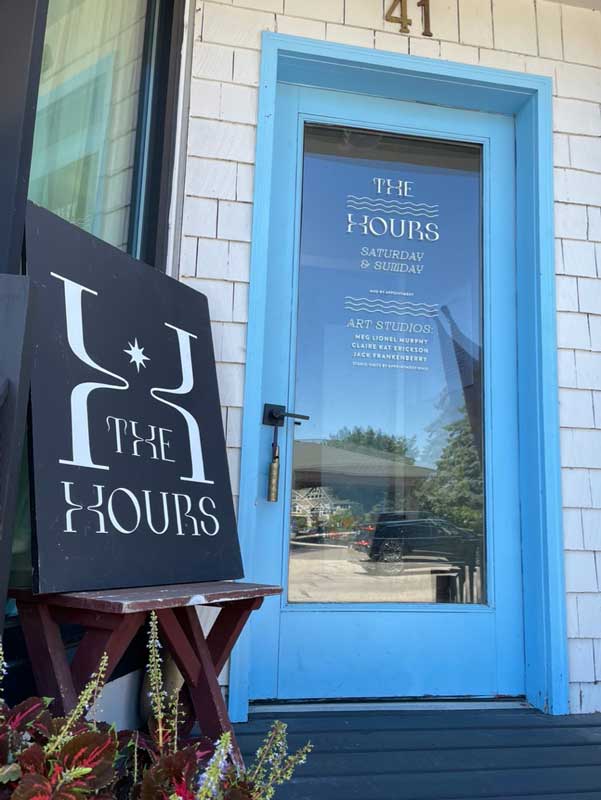 Start your tour at The Hours Gallery and experience a new generation of contemporary art in Door County.
Next, head over to The Brian Pier Gallery, an award-winning artist with an impressionist style.
Afterwards, go to ARTicipation to see an eclectic mix of artists from the Midwest, and be sure to ask about their art classes.
Cross the historic Steel Bridge to the former Advocate Building, now the home of Margaret Lockwood Gallery. Her abstract work interprets the beautiful landscapes of Door County.
Next, visit the Popelka Trenchard Fine Art Gallery & Glass Studio for live, glassblowing demos.
Check out the Miller Art Museum on Louisiana Street which features works by Door County artists and from the greater Midwest.
You could spend a day on 3rd Avenue to visit: M3, The Pearl, SŌMI, Avenue Art on 3rd, Between Two Bridges, Audrey Off Gallery and Plum Bottom Gallery.
Around the corner and up Jefferson check out the Art Shed and Mona Lucy.
Make sure to confirm the open hours of the various galleries as times may change depending on the day of the week, staffing, and the season at hand. 
Worth a visit, when you have time to savor the flavor…
| Gallery | Social Media | Location | Contact | Description |
| --- | --- | --- | --- | --- |
| Art Shed | Art Shed Facebook | 517B Jefferson Street | (920) 559-9798 | Contemporary art and photography. |
| ARTicipation | ARTicipation Facebook | 10 E Oak Street | | Eclectic mix of artists from the mid-west and art courses. |
| Audrey Off Gallery & Framery | | 40 N 3rd Avenue | (920) 743-2259 | Watercolor, oil, acrylic, and mixed-media art |
| Avenue Art & Co. on 3rd | Avenue Art & Co. on 3rd Facebook | 3rd Avenue | (920) 734-7710 | Regional original art and custom framing design |
| Brian Pier Gallery | Forever Grateful Boutique & Brian Pier Gallery | 20 S Madison Ave | ‭(262) 358-2348‬ | Brian Pier (1 of 4) winner of the First Annual "Art in the Door" Contest Door County, 2023 and more. |
| The Hours Gallery | Hours Gallery Facebook | 41 W Maple Street | | Genessis Lopez, a new generation of art in Door County, contemporary |
| M3 Open Artist Studio | Miller Art Museum Facebook | 142 S 3rd Ave | (920) 746-0707 | Open Artist Studio |
| Margaret Lockwood Gallery | Margaret Lockwood Facebook | 7 S 2nd Ave | (920) 493-3635 | Abstract paintings interpreting the beauty and landscapes of Door County, Wisconsin |
| Miller Art Museum | Miller Art Museum Facebook | 107 S 4th Ave | (920) 746-0707 | Center for exhibition, education, and creative enrichment in the visual arts and M3. |
| Mona Lucy Gallery | Mona Lucy Gallery Facebook | 626 Jefferson St | (920) 495-0651 | Acrylic artist, colorful and textured paintings |
| The Pearl of Door County | The Pearl of Door County Facebook | 143 S 3rd Ave | (920) 493-7632 | Featuring over forty Door County artists |
| Plum Bottom Gallery | Plum Bottom Gallery Facebook | 231 N 3rd Ave | (920) 743-2819 | Opening 9-29-2023 |
| Popelka Trenchard Fine Art Gallery & Glass | Popelka Trenchard Glass Facebook | 64 S 2nd Ave | (920) 743-7287 | Fine Art, Glass Art, Glass Blowing Classes |
| SŌMI Gallery | SŌMI Gallery Facebook | 45 S 3rd Ave | (920) 818-0809 | Three artists, contemporary art experience. |
| Two Bridges Studio & Gallery | Two Bridges Studio & Gallery Facebook | 22 S 3rd Ave | (847) 560-3796 | Two Bridges Studio & Gallery is a collaboration of artists: Julia Redwine and Dale Vanden Houten |