Be sure to reserve Saturday, November 23, from 10 am to 3 pm, for the Sturgeon Bay 2013 Holiday Art Crawl.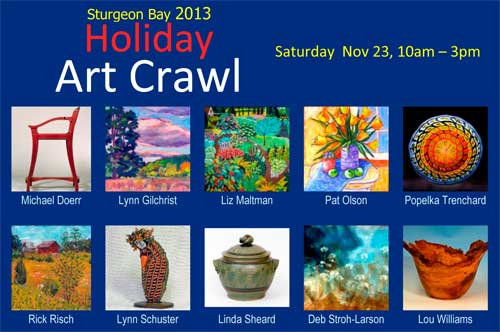 This year, the Crawl includes artist demonstrations at each location. And, while you enjoy all the paintings, furniture, turned wood, pottery, glass, weaving, photography, jewelry and more… indulge in some tasty art-browsing refreshments at each site – all are in Sturgeon Bay.
This year three new local artists are joining the Crawl:
Fine handmade furniture maker Michael Doerr in his studio at 4371 State Highway M. Doerr's award-winning furniture is meticulously crafted as functional fine art.
Wood turner and photographer Lou Williams at 6427 Whitefish Bay Rd. Williams finds unique wood from around the world to create his hand-turned bowls.
Potter Linda Sheard at Lily Bay Pottery, 3450 N. Lake Michigan Dr. Form and function meet in Sheard's unique pottery.
Returning Crawl artists include:
Three award-winning painters  Lynn Gilchrist, Liz Maltman and Rick Risch, all showing at 361 N. 4th Ave. Gilchrist shows oil plein air landscapes in vivid colors, along with monotypes and pastels. Maltman's use of bold colors and design informs her acrylic and pastel paintings. Risch uses rich texture in his oil landscapes and mosaic pieces.
Deb Stroh-Larson at Stroh Haus, 608 Kentucky St. Stroh-Larson displays her original monotypes, etchings and pastels as well as greeting cards.
Pat Olson at her working studio in the back of Artists Guild, 215 N 3rd Ave. Well-known for her whimsical paintings and prints, Olson also shows her still-lifes and landscapes in pastel and acrylic.
Lynn Schuster at 410 N. 6th Ave. Hand-weaver and textile artist Schuster will also show her intricate hand-beaded jewelry.
Jeremy Popelka and Stephanie Trenchard at Popelka Trenchard Glass, 64 S. 2nd Ave. The nationally-known glass artists show their blown and hand-cast pieces, some functional, some sculptural. Trenchard's atmospheric color-field paintings are also on display. The pair will demonstrate glass-blowing between 12 and 2 pm.
Artists Guild LLC of Sturgeon Bay is generously providing support for this year's crawl.  Click to find links to each artist's website and a printable Crawl map.