The Door County Budget Planning process is now underway throughout the region in municipalities and school districts …with citizens and organizations asking for greater focus on safe Public Lawns.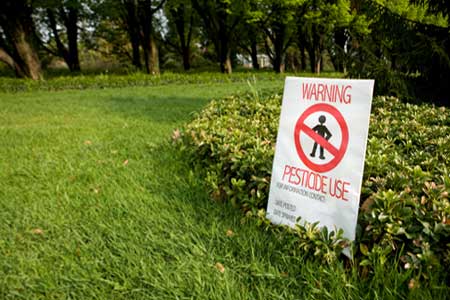 Marblehead, Mass., made U.S. history more than a decade ago by becoming the first town to ban lawn and garden pesticide use on public property. We would like to see Door County do the same at all levels, in schools, towns and county government bylaws.
Door County Style's Editor has created a petition addressed to all Door County Municipal Officials and School Board Members, including Dan Austad, County Board Chairman, and others which says:
"Bring an end to the practice of repetitive and costly application of pesticides, including herbicides, to public lawns, parks and playing fields. We, the undersigned ask you to legislate for safer alternatives to the use of pesticides and synthetic fertilizers on public lands."
According to 3 separate Columbia University and Mount Sinai School of Medicine studies, prenatal exposure to organophosphate pesticides can lower children's IQ by an average of as much as 7 points – more than enough to affect a child's reading and math skills and cause behavioral problems with potentially long-lasting impacts, according to the studies.
"This is not trivial," says Virginia Rauh, one of the study authors, speaking from Columbia University, where she is deputy director of the university's Center for Children's Environmental Health and professor of population and family health. "What is particularly significant," she says, "is that these studies involved so many children from such different communities, yet produced consistent evidence of the pesticides' effects on cognitive skills and short-term memory."
John Wargo, one of the nation's leading experts in pesticide policy, traces the history of pesticide law and science in Our Children's Toxic Legacy: How Science and Law Fail to Protect Us From Pesticides, Yale University Press, New Haven, CT 1996. He warns that children who live in homes where lawn and garden pesticides are used are up to four times more likely to develop leukemia, brain cancer and soft tissue sarcoma. Lawn and garden chemicals are more dangerous to children than adults because their immune systems have not yet fully developed to protect their bodies from the toxins found in pesticides and herbicides (anything with the word -icide at the end, by the way, is chemically designed to kill living things).
And yet, at the age when they're most susceptible to health risks, children are out in yards and parks in more direct contact with lawn and garden chemical residues than adults. Pets are also highly at risk.
That's why the entire nation of Canada, and two U.S. states, Connecticut, Maryland and New York, have enacted laws that just say no to toxins like Weed 'n Feed, Roundup and Sevin in parks and on playing fields used by kids. Connecticut has taken the bold step of removing them from all school grounds in grades K-8. We ask our county leaders to do the same!
In Maryland, the Fertilizer Use Act of 2011 went into effect on October 1, 2013 – restricting the nutrient content of all grass food sold in the state, barring phosphorus from most lawn-care products and setting limits on how much nitrogen should be applied. But experts say that it needs to be even stronger… Lawn fertilizer limits take effect, but effectiveness questioned.
Our petitioning effort is spurred by several events including receipt of the following Letter to the Editor:
Dear Residents of Door County, Municipal Officers and School Board's Members:
The organizations represented in this letter have joined together to advocate for Safe Lawns in Door County and bring an end to the practice of repetitive and costly application of pesticides, including herbicides, to private and public lawns. When planning your current budget, we, the undersigned and your neighbors, ask you to consider safer alternatives for public lawns, parks and playing fields.
The commonly sprayed herbicides are harmful, especially to children and pets, causing various forms of cancer and endocrine effects. The warning flags and re-entry limitations are ineffective and insufficient. Rather than advise against or prohibit entry, make the lawns safe to walk and play upon.
Moreover, universal application of herbicides is expensive and unnecessary. With a little planning, a lawn or playing field can be taken off of pesticides and synthetic fertilizers. The natural lawn and field will be more drought tolerant and cost less to maintain.
Please keep these considerations in mind as you develop budgets and make contracts for lawn care. Local landscapers can provide safe alternatives, if you ask. To learn more or contact us, go to www.doorpropertyowners.org/safe-lawns-in-door-county.
Respectfully submitted by Patrick Fitzgerald, Peter Sigmann MD and Victoria L. Cerinich on behalf of Door Property Owners and Safe Lawns in Door County, Marne Kaeske on behalf of The Ridges Sanctuary
…and our supporters, who live, work and play in all of the communities in Door County, including the League of Women Voters of Door County, Door County Environmental Council, Lakeshore Natural Resource Partnership, Sustain Door, Crossroads at Big Creek and the WildOnes.
We encourage you to join in the conversation and share this among your friends on Facebook and by whatever other means you find familiar.