Located mid-peninsula, on County Highway A, just north of County Highway EE, Jesus "Chewy" Jauregui's Horsemanship Ranch is the site of year 'round horsemanship training and development in Door County.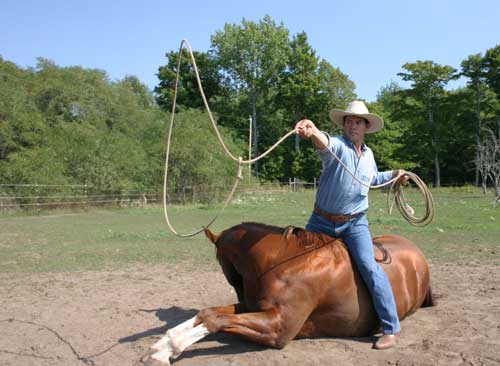 Over the past decade, Chewy's continuous efforts at planning and construction have turned a blank parcel of farmland into a horse and rider training center. Known by many as Door County's own horse-whisperer, Jesus Jauregui adheres to the caballero (vaquero or buckaroo) tradition of riding in lightness, collection on a loose rein, working the reata (lasso). These are the same roots that spawned the Spanish Riding School and other classical dressage schools of Europe. Chewy uses gentling techniques to teach the horse appropriate responses to humans – proving the effectiveness as a certified wild mustang trainer and national competitor. Now, he wants to share this knowledge with others.
Horses and their riders are invited to attend "Horsemanship & Roping," the first in a new series of regular workshop events at Horsemanship Ranch on Saturday, July 27 or repeating again on Saturday, August 17. An outdoor PA system and wireless mic permits Chewy to work from horseback alongside riders and their horses describing and demonstrating the methods he uses to gain the trust and confidence of the horses that he trains. With everyone saddled up, he provides hands-on instruction to riders mounted on their own horses. Friends, family and the general public are welcome to observe.
The one-day workshops begin at 9 am and wraps up at 4 pm with a short break for lunch. The cost for horse and rider to attend is $75, including lunch and a beverage. Space is limited to no more than 16 riders. Call the Horsemanship Ranch office at 920.839.9787, contact Chewy by cell at 920.493.1127 or email chewy@horsemanshipranch.com to reserve a space. There is plenty of open field space for truck and trailer parking at the ranch located at 8281-8285 County Road A. Learn more at www.HorsemanshipRanch.com.