In 1983, Bernie and Shirley Geisel asked a group of local farmers to help create a show that would commemorate the early days of Door County farming, including a display of working farm machinery.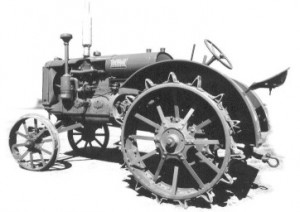 They hosted the forthcoming Northeastern Wisconsin Antique Power Association's gathering on their farm near Valmy for fifteen years before it moved to a permanent 30-acre location at 5005 Country View Road north of Sturgeon Bay. The Valmy Thresheree takes place this weekend, August 16 – 18, celebrating the heritage of local farming over a three-day span.
The event kicks off on Friday evening with live music by Centerline from 7 – 11 pm. Gates open at 6 pm. Saturday's chainsaw competition takes place at 9:30 am followed by an antique tractor pull at 11:30 am. The Jerry Voelker Orchestra, will provide polka dancing music from 2 – 5 pm with a polka mass at 5:30 pm. The John Welch Country Band will entertain from 8 pm to midnight.
On Sunday the Lena Area Garden Tractor Pullers will compete starting at 10 am, plus a kid's tractor pull, games and the Little Farmer Dress-up Contest. At noon The Cavalcade of Power will provide a parade of antique machines in front of the Grandstands while the Bittorf Brothers play from Noon to 3 pm in the Barn Pavilion. Food and refreshments are served all weekend.
Each year, the Valmy Thresheree is capped off with the annual Sunday afternoon Pig Wrestling Championships at 3:30 pm. Men's and women's teams of four step into a knee-deep mud pit in a competitive effort to catch and subdue a pig in the shortest time. DesignWise Studios was there dodging runaway pigs and flying mud in 2011 to bring you the following… PETA beware!
[embedplusvideo height="309″ width="500″ editlink="http://bit.ly/14jzIbu" standard="http://www.youtube.com/v/ntaqd5MbsH0?fs=1″ vars="ytid=ntaqd5MbsH0&width=500&height=309&start=&stop=&rs=w&hd=0&autoplay=0&react=1&chapters=&notes=" id="ep2372″ /]
Admission is $5 a day or $8 for the weekend, and includes a souvenir button. For more information call 920.495.0257 or 920.559.0466.