Stand-up comedian, social critic, satirist and musician Bill Hicks (Dec. 16, 1961 – Feb. 26, 1994) might be considered the Gen X equivalent of Lenny Bruce, both considered to be highly controversial performers whose works are steeped in dark comedy.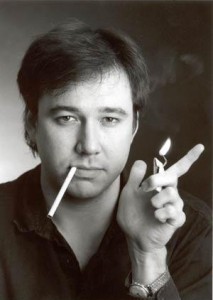 Bill Hicks was 16 years old in 1978 when he first started performing stand-up at the Comedy Workshop in Houston, Texas. During the 1980s he toured America extensively and performed a number of high profile television appearances. It was in the UK, however, where Hicks first amassed a significant fan base, packing large venues with his 1991 tour. Hicks died of pancreatic cancer in 1994 at the age of 32. In the years after his death, his work and legacy achieved acclaim in creative circles. In 2007, he was voted the sixth-greatest stand-up comic on the UK Channel 4's 100 Greatest Stand-Ups and appeared again in the updated 2010 list as the fourth-greatest comic.
A documentary entitled American: The Bill Hicks Story, was produced by Matt Harlock and Paul Thomas, and features archival footage and interviews with family and friends, including Kevin Booth. It premiered on March 12, 2010, at the South by Southwest Film Festival in Austin, Texas but was only released in Europe until recently. This film will be the subject of the next screening of the Green Door Film Society at Greens N Grains Deli in Egg Harbor on Thursday, December 1 at 7 pm.
Devotees of Hicks have incorporated his words, image and attitude into their own creations. By means of audio sampling, fragments of Hicks' rants, diatribes, social criticisms and philosophies have found their way into many musical works, such as Radiohead's second album "The Bends" which is dedicated to his memory. Singer/songwriter Tom Waits lists Hicks' "Rant in E-Minor" as one of his 20 most-cherished albums of all time.
"Bill's comedy (despite his own claims to the contrary) was not about hate or pessimism. Bill was an unabashed optimist. He believed that most people were good at heart but evil forces were deliberately distracting us all from creating a better world using television, lies, tobacco and alcohol as opiates," explains the official Bill Hicks Memorial Website. "Bill felt a revolution of thought was coming and that it was his duty, as an emissary of the truth, to bring whatever light he could to anyone who would listen."
The film was nominated for a 2010 Grierson British Documentary Award for the "Most Entertaining Documentary" category. It was also nominated for Best Graphics and Animation category in the 2011 Cinema Eye Awards. Awards won include The Dallas Film Festival's Texas Filmmaker Award, The Oxford American's Best Southern Film Award and Best Documentary at the Downtown LA Film Festival.
"I had a vision of a way we could have no enemies ever again, if you're interested in this. Anybody interested in hearing this?" asks Bill Hicks. "It's kind of an interesting theory, and all we have to do is make one decisive act and we can rid the world of all our enemies at once. Here's what we do. You know all that money we spend on nuclear weapons and defense every year? Trillions of dollars. Instead, if we spent that money feeding and clothing the poor of the world, which it would pay for many times over, not one human being excluded… not one! We could as one race, explore inner and outer space together in peace, forever."
Greens N Grains Deli hosts a natural and organic dinner special each evening before the Film Society screening. Enjoy a delicious soup specialty, salad, a fresh baked roll and a cup of tea for $7.50, available from 6 pm on. The Film Society screenings take place at 7 pm and there is no charge for membership but seating at screenings is limited to 30 people. Dinner and film reservations are requested.
Please note: Response to the recent screening of Forks Over Knives was so over-capacity that the Green Door Film Society has added a 2nd between-screens showing on Thursday December 8 at 7 pm and dinner will also be served as usual… please RSVP.
Greens N Grains Natural Foods and Deli is open daily in the quiet season from 10 am – 5 pm – except on movie nights when they will remain open until 9 pm – in downtown Egg Harbor at 7821 Hwy 42, and can be reached at 920.868.9999 or by email at info@greens-n-grains.com. The store's Website features news and special monthly discount flyers at Greens-N-Grains.com.